About Us
You Are Heard is a place where the LGBTQI+ community and allies can report hate incidents and find support. Hate incidents and hate crimes are acts of violence or hostility directed at people because of who they are or who someone thinks they are.
The platform was created by a group of civil society organisations across 10 countries. ERA LGBTI Equal Rights Association reached out to our network of partners across the Western Balkans & Turkey and everyone's expertise and experience contributed to designing the best solution. We worked alongside our UK partner, Stonewall, to help build and launch this website and the software which each partner uses to securely monitor reports from their country and to triage support.
By gathering reports, we aim to build a pool of evidence which will help us fight for the rights of LGBTQI+ people, together. It will also enable us to more easily link people to support which meets their needs.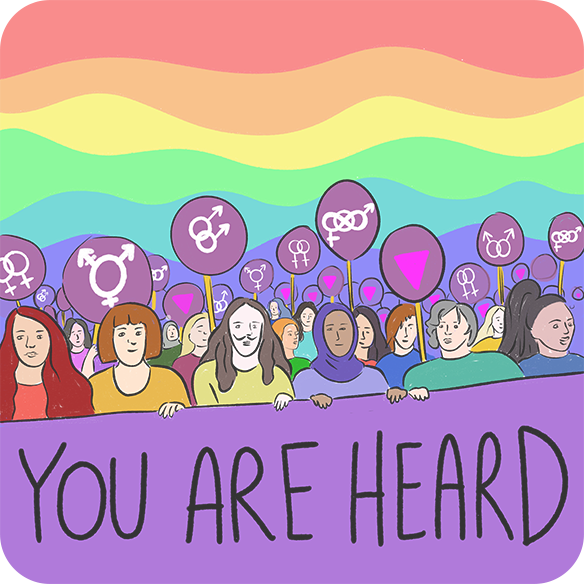 Frequently asked questions
Why does reporting make a difference?
Every single report is important. Each one we receive means we can paint a more accurate picture of the levels of hate crime against LGBTQI+ people across the region. This gives us the power to show that there is a need to improve national policies and support systems in order to meet the needs of the community better. And it means we can show our allies around the world why we need them to stand alongside us and help us advocate for change.
At the moment, although many countries are sharing data about hate crimes with the OSCE, only very few cases are being counted from the Western Balkan region and Turkey. We know the reality is that LGBTQI+ communities are facing much higher levels of hate crime and hate speech than the current numbers show. Your reports help us to show evidence of the real situation across the region.
Please see our Statistics and Evidence page for our latest publications, which your reports help to make possible.
Who can report a hate incident?
If you are the survivor of a hate incident or were a witness to the event, you can report it on this site.
If you work for a civil society organisation or another body which is supporting the survivor of a hate incident, you can also make the report (if the survivor hasn't reported it here already).
If you have only heard about an incident (from a friend or acquaintance), you will need to make sure you have the correct facts before making a report, and that you have the consent of the survivor to submit any details which may identify them. We suggest you speak with the survivor first if you heard about it through them, and let them decide who they would prefer to make the report.
Can I report anonymously?
Yes, most people do. Just don't include your contact details in the form and don't include any personal information in the description of the incident.
We have designed the form and our software specifically to make it impossible for anyone to find out the origin of an anonymous report.
What if I feel nervous to report?
We completely understand that making a report can be very difficult. As a survivor, it is your choice whether you want to make a report, and whether you want it to remain anonymous – you are in control of the process at all times, and your wellbeing and safety are the most important factors.
If you start a report and then decide to stop for any reason, you can just exit the form and your information will not be submitted.
If you decide to submit an anonymous report, remember that nobody will be able to connect the report to you. If you include any information by mistake in your anonymous report which we think might mean someone could identify you (such as a description of yourself or an address), we will remove that information from our system straight away.
If you decide to include your contact details in the form in order to access support, only the LGBTQI+ support organisation which you select will receive your contact details, and they will only use them to provide you with support. In the form, there is a section where you can specify how you would like to be contacted – for example, at a certain time of day when you know you will be alone. Once you have received the support you need from the support organisation, they will remove your personal information and contact details from the system completely.
If you have any questions before you decide whether to report, please email hatecrimes@lgbti-era.org or contact one of the organisations listed on the Find Support page.
What are my rights when I make a report?
Please see the first page of the reporting form for more information about your rights – you will need to agree to this before you submit any information, so we can make sure that you understand and consent to the process.
What if something goes wrong while I'm filling out the form?
If you haven't yet finished the form, you can exit and none of the information will be saved or submitted. If there's a problem with the form, or you have a question about it, please email hatecrimes@lgbti-era.org and someone will respond to try and help you.
What if I'm experiencing an incident now or think I'm in danger?
Please be aware that this website is not an emergency support service. Reports made on this website will take a few days to be reviewed.
If you are in a dangerous or time-critical situation, please consider contacting your local emergency services, or a local LGBTQI+ friendly support service which is currently open.
You may find a support service on our Find Support page – but most of these are not able to provide emergency response and may have limited opening hours.
If you are in the process of filling out the form and realise that you might be in a dangerous situation (for example, someone who doesn't know your identity comes into the room), please leave the website immediately. Your safety and wellbeing is the most important factor at all times.